Posted by Pete on 28th Dec 2020
Today, in 1936, John Cornford was killed near the town of Lopera in the south of Spain.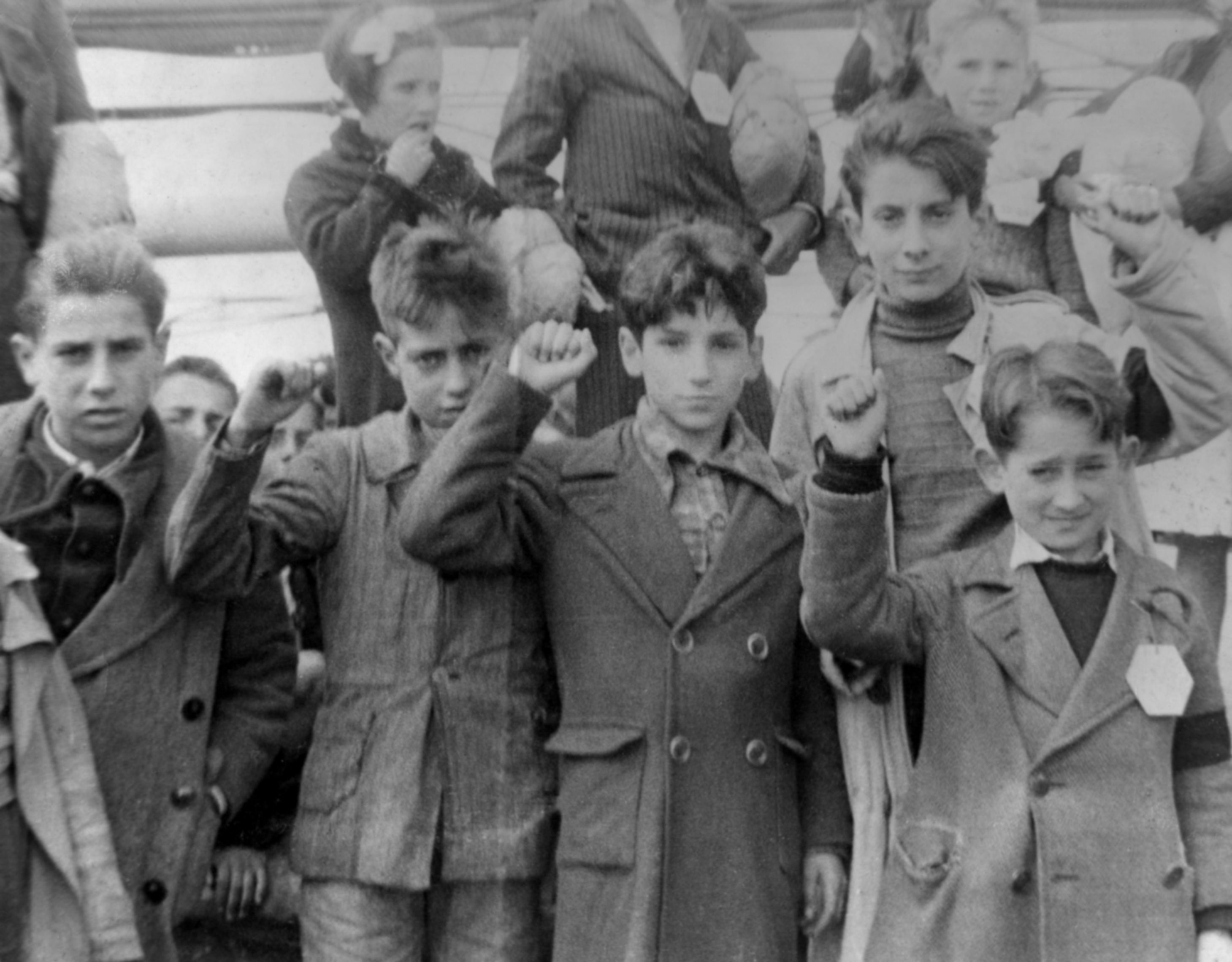 Children preparing for evacuation from Spain, during the Spanish Civil War, some giving the Republican salute.
(Photograph donated to Wikipedia Commons by the estate of Olga Brocca Smith, and is dedicated to all innocent victims of war)
Born into the British upper-class, John Cornford died fighting as a Communist on the frontline of the Spanish Civil War.
Cornford was the son of a Cambridge philosophy professor and his mother was a published poet.
Charles Darwin was his great-grandfather!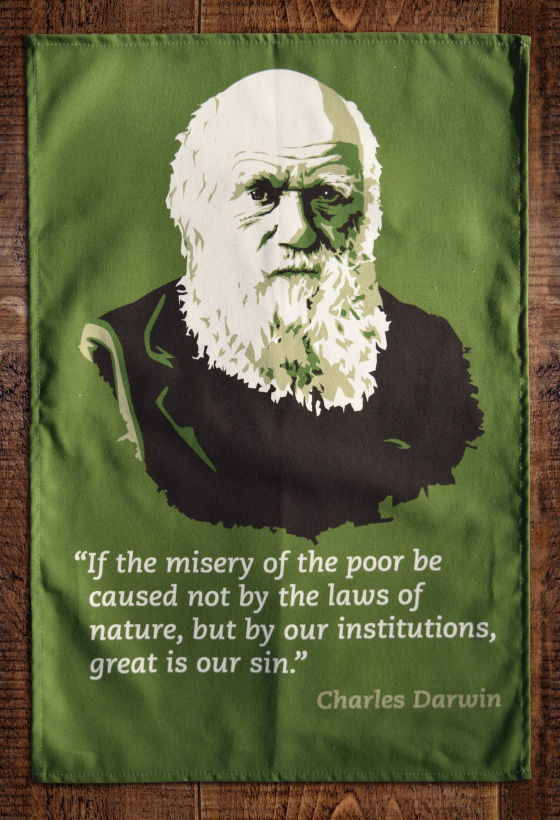 Click to view our Charles Darwin tea towel
Even before his fierce intelligence became apparent, Cornford had a comfortable and privileged life set up before him.
He attended private school, where he developed a love for cricket typical of his class – and a somewhat less typical love for football.
Even more unconventional were his increasingly left-wing political sympathies.
His brother, Christopher, remembered how,
"As young as fourteen and a half he became sympathetic to socialism. As we strode together through the school grounds, among the great beech trees and lakes, in shiny blue serge Sunday suits and stiff collars unloosed, he explained to me the principles of the nationalisation of industry and the injustices of our economic system."
John Cornford was already shaping up to be a virtuous class traitor, in the tradition of George Orwell and Tony Benn.
At just 16 he won a scholarship to study at Cambridge University. In the summer before he went, the teenage Cornford joined the Young Communist League in London.
The year was 1933. Hitler had just become Chancellor of Germany and the Far Right was on the rise across the rest of Europe.
In this grim context, thousands of young people gravitated to Communism, which looked to many like the only movement willing to seriously confront the fascists.
With the Western governments pursuing appeasement of Germany and Italy, characters like Eric Hobsbawm and even Albert Camus joined up to Communist Parties, seeing them as the only thing standing between Europe and the Hitler-shaped abyss.
Despite spending at least as much time on political activism as studying, John Cornford graduated from Cambridge in 1936 with an excellent degree in history.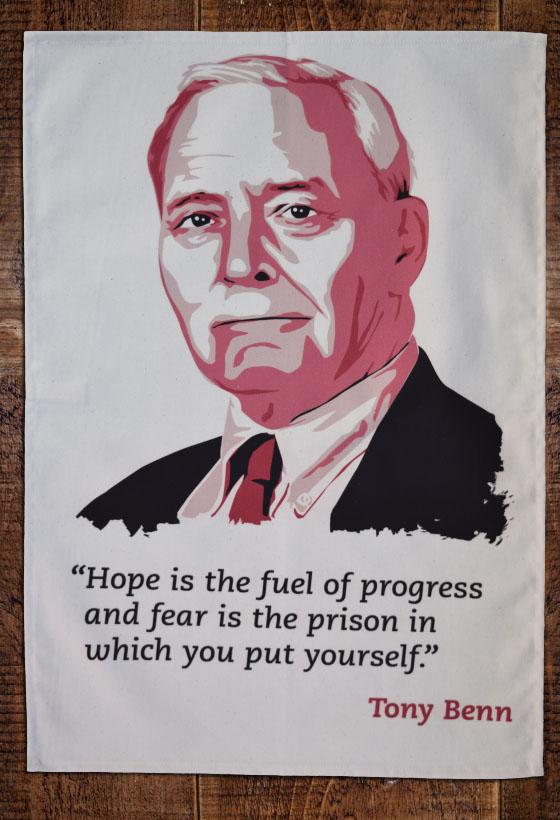 Click to view our Tony Benn tea towel
He was invited to stay on as a graduate student at Trinity College, but then Francisco Franco launched his rebellion against the elected, left-wing government of Spain.
Of course, Cornford turned Cambridge down and went immediately to Spain as part of the mass migration of internationalist volunteers wanting to fight Franco.
With his father's WWI pistol, Cornford fought for the Spanish Republic with the POUM militia in Aragon. Orwell was another British veteran of the unit.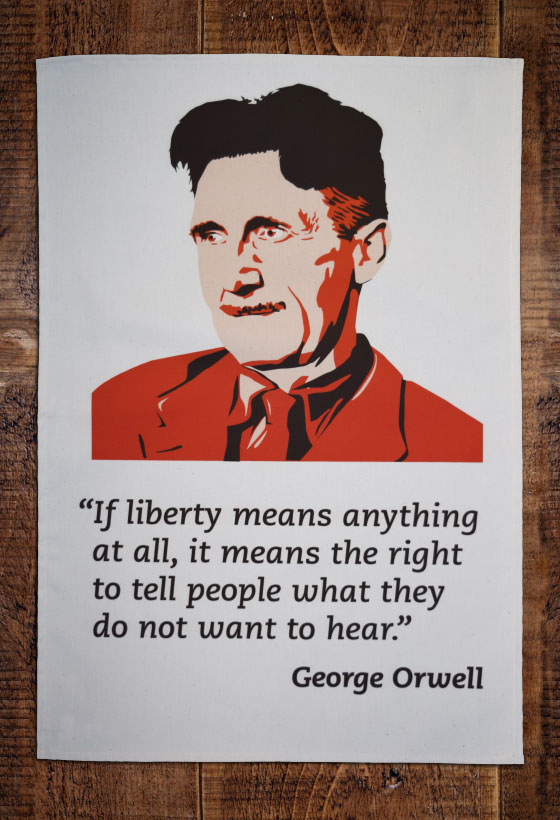 Click to view our George Orwell tea towel
After a short spell at home in Cambridge recovering from a severe bout of illness, Cornford headed straight back to Spain with some more British volunteers.
They fought in the Battle of Madrid attached to a unit of French soldiers. Cornford took a near-fatal head wound in early November. A comrade remembered how,
"When the smoke cleared there was John Cornford with blood pouring down his face and head…They took John off and that afternoon he came back with his head bandaged, looking very heroic and romantic."
The soldiers of the Republic kept the fascists back from Madrid, and Cornford was soon fighting in the south of Spain with the newly-formed British Battalion of the XVth International Brigade (later known as the 'Major Attlee Battalion' after a goodwill visit from the Labour Party leader in 1937).
In the run up to his first Christmas at the front, Cornford wrote home to his girlfriend, Margot Heinemann,
"No wars are nice, and even revolutionary war is ugly enough…There's a tough time ahead but I've plenty of strength for it. Well, one day the war will end – I'd give it till June or July, and then if I'm alive I'm coming back to you. I think about you often, but there's nothing I can do but say again, be happy, darling, and I'll see you again one day."
Two weeks later, on 27th December 1936, John turned 21. The next day he was killed in action.
Unforced and unpressured, thousands of young people like John Cornford travelled to Spain in the late-1930s to fight fascism. Countless never returned.
"The flame that burns twice as bright burns half as long," indeed.
Click to read more radical stories on our blog