Posted by Luke on 26th Oct 2018
Exploring William Morris's Designs
A few weekends ago, the 'rents and I took a 'business trip' to the William Morris Gallery in Walthamstow, North London.
I say 'business trip', because this is a bit like that friend of yours who works for a brewery, who tells you she had to sign up for a craft beer pub crawl as part of her 'market research'.
Truth is, we couldn't wait to see the Gallery and check out old William's designs.
William Morris Coaster Collection - Novelty Gift
William Morris, Simple Design & Socialism
Now I've never been that into my arts and crafts and Victorian design, and perhaps the same goes for you, but bear with me here.
William Morris (1834-1896) was a British designer, writer and social activist.
He was a revolutionary in two main ways.
Firstly, Morris rebelled against the design aesthetics of the mid-19th century.
Instead of the 'in-your-face', extravagant 'faux-royalty' that had been trending (think Trump Tower) among Britain's aspirational classes, Morris favoured simpler, more understated designs often inspired by nature - like the style on the right:
He also rejected chemical dyes in favour of reviving organic colouring - using plants, walnut shells and insects.
(And you thought the 'organic movement' was invented by Waitrose...)
Secondly, Morris was an early socialist - he wanted the fruits of society's progress, including good design, to be shared and appreciated by all. More on that in a minute.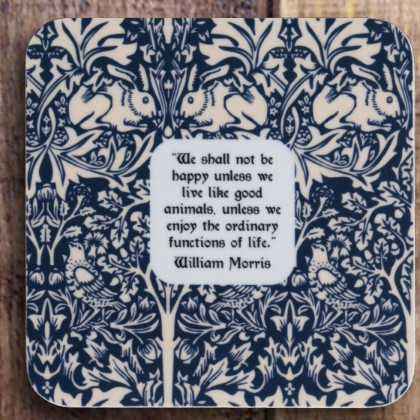 In pursuit of his design revolution, William established 'Morris & Co.', exhibiting at shows and selling wallpaper and interior decorating services from a shopfront on Oxford Street.
The WM Gallery had a really cool video game where you got to pretend to run Morris & Co and decide which designers to hire, products to make and customers to target (wealthy elites, unemployed creatives or working class housewives?).
It was a lot of fun, and under my management the business didn't go bankrupt...
All right, so I did receive a message at the end from a computerised version of William's wife, Jane (a working class model - their marriage was a rare example of a bridge between the Victorian classes, and Morris got some stick for that), telling me I wasn't quite making enough to pay the household bills.
Hmm. Let's hope I can do a better job with Radical Tea Towel!
In real life, Morris's business did pretty well. He became a celebrity in Victorian Britain.
But like many creatives, he was a bit of an introvert, and hated having his photo taken. He didn't want the limelight - Morris was more of an 'ideas' kind of guy.
And he gradually became distracted by the biggest idea of them all: socialism.
Morris's Socialism in Practice
Apparently, Morris felt a bit guilty about his business serving the interests of his rich customers. His sympathy for the working classes and poor of Victorian Britain was growing.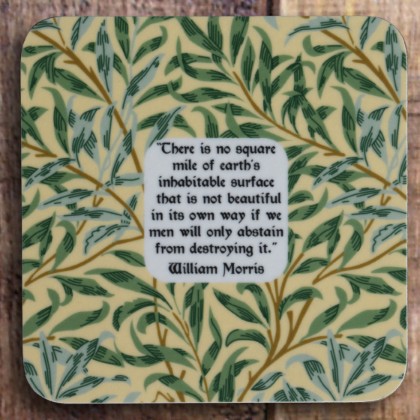 In his spare time, Morris managed to set up the Society for the Protection of Ancient Buildings, campaigning against the 'restoration' efforts of the time that were destroying genuinely original features.
He also wrote novels which basically established fantasy as a literary genre (inspired by his interest in medieval history and his visits to Iceland).
Take that, J.K. Rowling and J.R. Tolkein!
All these interests reinforced each other. Morris's travels and sympathy with the Icelandic independence movement apparently helped inform his political view that class inequality - and not just poverty - was a real evil in society.
And so, Morris joined the Democratic Federation (DF) - Britain's first socialist political party - and hung out with other radicals of the age like Eleanor Marx and fellow-designer Walter Crane.
He used his creative talents to design the membership cards, and his writing skills to help compose the DF's manifesto - which advocated free education, an eight-hour workday and nationalisation.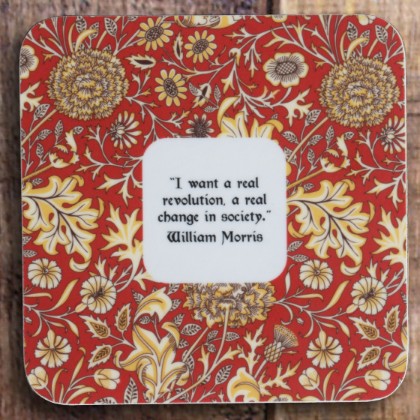 The money Morris made from his design business paid for the DF's loss-making weekly newspaper, 'Justice', to which George Bernard Shaw was also a contributor.
After the DF split, Shaw joined the Fabian Society - but Morris decided those guys were too boring and not radical enough.
So he set up the 'Socialist League' organisation, and again financed their newspaper, called 'Commonweal', using it to serialise his novel, 'A Dream of John Ball', about the 1381 Peasants' Revolt.
You can see his Victorian printing press at the Kelmscott House Museum in Hammersmith. Morris used it to churn out socialist pamphlets and other lovely propaganda to help people think afresh.
Don't forget that this was a time when very few people had even heard of socialism.
And in case you thought Morris was a back-room boy hiding behind his pen, he did actually get arrested for advocating socialist ideas on the streets of London.
Morris and his friends did a huge amount to propagate these new political ideas - sowing the seeds of political representation for the Labour movement and arguably changing the course of British history.
There are loads of great radical quotations by Morris - and when we came back from the Gallery, we had the idea of Radical Tea Towel producing a set of six coasters as an original William Morris gift inspired by his designs and writing.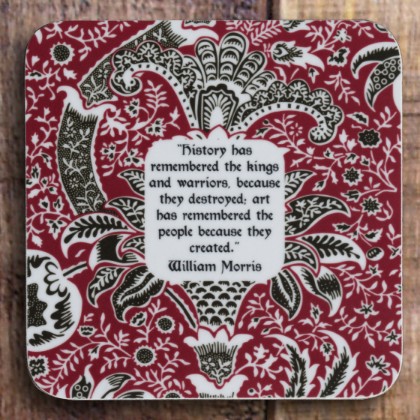 We'd always known William was a bit of a radical but I don't think we'd realised quite how ahead of his time he really was.
Anyway, next time you're in London, forget about the British Museum - pop up to the William Morris Gallery instead and educate yourself about a true British radical.
And in the meantime, whip out our coasters next time your friends are round for a drink, so you can educate them, too!
Which is your favourite? Browse the new William Morris coasters