Posted by Pete on 10th Apr 2019
For a progressive company from Wales, the radical history of our home is fundamental.
---
In 1980, the first edition of Howard Zinn's A People's History of the United States was published.
It was a masterpiece — the most thorough and self-aware work of 'People's History' yet written (it even got a shout-out from Matt Damon in the 1998 classic Good Will Hunting!).
This non-traditional type of historical writing — People's History — is a big inspiration to us and the way we try to communicate here at Radical Tea Towel.
It is history written for emancipation, from the perspective of the oppressed — the working class, the colonised, women — not the oppressors. It celebrates rebellions and rebels usually called 'irresponsible', and it denounces the imperial wars usually called 'glorious'.
Better still, A People's History of the United States didn't only make a contribution by giving a fresh, enlightening take on American history. Quite the contrary, Zinn's book created a template with which People's Histories could be written of other countries as well.
Which brings us back across the Atlantic, to Wales.
Heirs to Radical History
For Radical Tea Towel, Wales is quite literally the 'Land of our Fathers'. Our founders Bea, Tim, and Luke Pearce came up with the idea around Tim and Bea's kitchen table in Barry, South Wales.
Throughout their adult lives, Bea and Tim have embraced Wales and its rich history — migrating from England when Luke and his brother were born, learning Welsh, and insisting their children learn it as well!
With that in mind, the first place we'd love to see a Howard Zinn-style 'People's History' outside of the United States would be Cymru.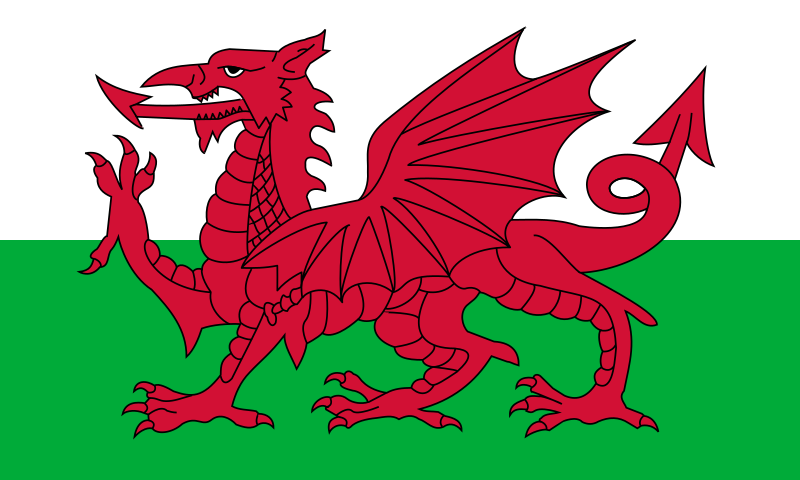 It's all there – the Welsh rebels and revolutionaries, protestors and pamphleteers — just waiting to be compiled.
Starting from the present day, there's Michael Sheen (of Newport) who, despite being know for playing Tony Blair alongside Helen Mirren in The Queen in 2006, is a committed democratic socialist, often out and about agitating for the National Health Service.
Moving back into the 20 th century, there's Raymond Williams from Llanvihangel Crucorney (Monmouthshire).
The working-class son of a railway worker, Williams rose up to become one of the leading Marxist theoreticians in late-20 th century Britain.
While Williams was serving in the Army during WWII, another Welsh radical was coming into the political ascendancy. With peace in 1945, Aneurin Bevan — another Monmouthshire boy, from the mining town of Tredegar — created the NHS as Clement Attlee's Minister of Health.
Bevan's mining background was also Wales' background. The modern Welsh people were forged by the struggle and tragedy of the South Wales Coalfield — the engine of Britain's industrialisation.
The Long Struggle
Winston Churchill has never been forgiven by South Wales, where, as the Liberals' Home Secretary in 1910, he sent the army in to attack striking coal miners in Tonypandy — one miner, Samuel Rhys, was martyred by Churchill's troops.
On a lighter note, the peerless figure of Paul Robeson comes into the People's History of Wales alongside the fighting coalminers of the South.
In 1929, while walking through London after finishing a theatre performance, the African-American actor-singer ran into a ragged band of Welsh miners from the Rhondda, marching in protest at joblessness after they'd been blacklisted for taking part in the 1926 General Strike. Robeson joined them in their protest.
This began a lifelong friendship between Wales' socialist working class and Paul Robeson. At the tail end of the 1930s, to take just one example, Robeson recorded a heartfelt message of condolence for the Welshmen who gave their lives fighting Franco's fascism in the International Brigades. He also sang a beautiful rendition of the Welsh national anthem!
Move on past Robeson and Tonypandy, into the 19th century and Welsh rebellion and progressivism is no quieter.
The story of Britain's Chartist movement for a universal franchise makes no sense without a big chapter on Wales. It was at Newport, led by the local agitator, John Frost, that 10,000 Chartists attempted their great rising for democracy in November 1839.
Twenty-two of them gave their lives in the struggle.
A few decades earlier, Richard Price, a Nonconformist cleric from Glamorgan, rose with Mary Wollstonecraft and Tom Paine to become one of the outstanding supporters of the French Revolution in the English-speaking world.
Doing Justice to People's History in Wales
We could keep going down the centuries to Owain Glyndŵr (c. 1359-c. 1415), the icon of medieval Welsh resistance to extortion by the English Crown, but you get the picture.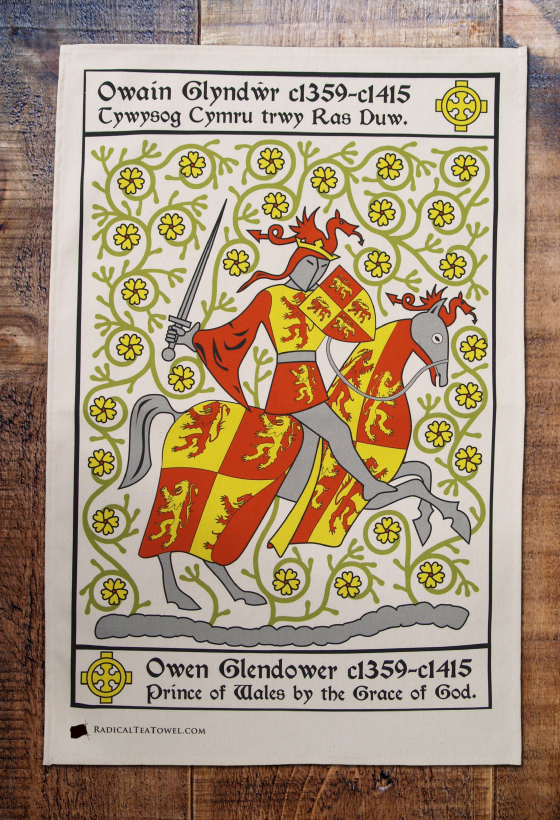 Above: Our tea towel design celebrating the Welsh hero Owain Glyndŵr
This has just been a skim of Wales' radical past, but it's hopefully still an indication that a 'People's History of Wales' just as rich and detailed as that of the United States is out there waiting to be written.
We can only hope that whoever writes it has room for a sentence or two on a family-run, progressive tea towel company from Barry!