Posted by Beatrice on 9th Dec 2017
Get new post updates here
We recently shared some posts on Facebook showing several of our Suffragette poster tea towels and oven gloves. It kicked off a bit of a debate...
Some people even got quite offended! Here's a few of the comments we received around the theme of feminist kitchen accessories being oxymoronic, and the idea that Radical Tea Towel is somehow encouraging stereotypes of women working in the kitchen:
"Really? You are turning posters calling for women to get the vote into tea towels? Maybe you could get the designs emblazoned on washing up bowls. Make a nice set for the lady if the house."
"No irony there then! I bet it was thought up and designed by a man...... just saying!"
"Maybe it's me but turning a feminist iconographic into a piece of material, tea towel, long associated women's work in the kitchen, seems slightly hmmm, odd."
"Oh dear! Oxymoron"
"Whilst I love the feminist movement and the artwork which helped move it forward...can't help noticing the irony of it all being printed on teatowels. Back in the kitchen, ladies...?"
One interesting thing to note is that a significant proportion of commenters outraged by the supposed offensiveness of feminist tea towels are men!
Our experience - and as a business thought up and launched by a woman in the first place - is that most women themselves have no problem with the idea of feminist messages on domestic items. In fact we also get plenty of reactions like the following:
"I actually enjoy the irony. It makes me smile."
"I think they'd make a great Xmas present for the man in your life. He can think about the message whilst he dries the dishes!"
That second comment is actually quite important. Our tea towels, aprons and oven gloves can - and should - be used by men, as well as women! An awful lot of commenters criticising the idea of feminist-themed tea towels are making the assumption that only women would use a tea towel. Which of course betrays their own strange worldview.

A tribute to the Radical History we all should remember
There's nothing about a Suffragette tea towel that says it's only for use by women, or that a man can't appreciate the finer stylistic points of a Keep Left apron.
Meanwhile, what's to say that a modern feminist can't use a good oven glove? Should a woman feel guilty just for appreciating the colour coordination of an apron?! We happen to believe that both women and men should be able to feel comfortable drying the dishes, if that's what they choose to do.
Of course, there is a certain irony in being able to do the washing up with marching Suffragettes in hand. Perhaps, just like the hammer and sickle were adopted as symbols for the oppressed working classes, oven gloves and aprons can be reclaimed as the symbolic tools of modern feminists!
By the way, we don't just put women's movements on tea towels. Our designs include a range of historical struggles, from the Tolpuddle Martyrs to the LGBTQ movement, as well as a bunch of men. In fact, we criticise ourselves for having too many designs featuring men, and for 2018 will be working to make sure far more of our designs highlight the inspiring women that have made an impact on the world through history.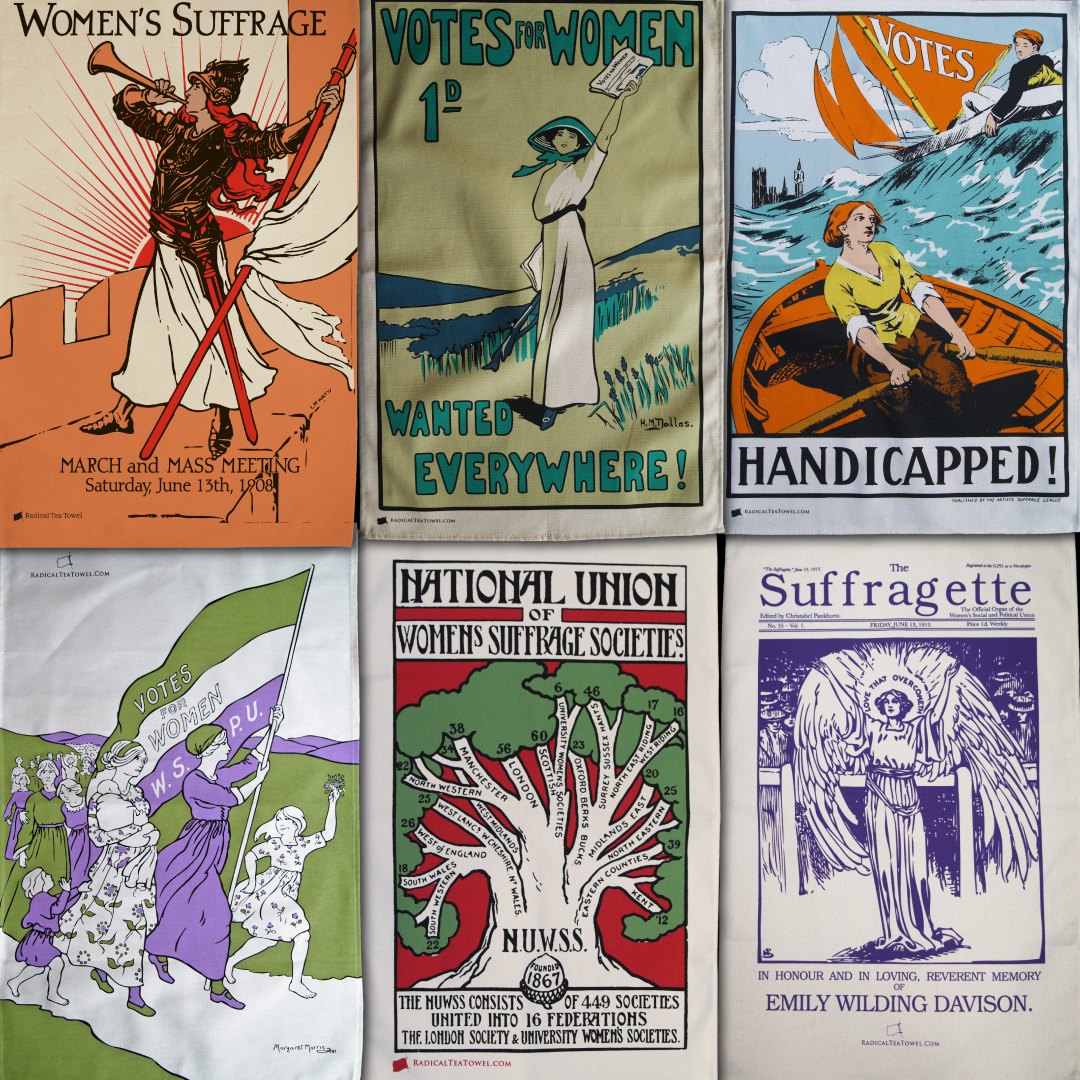 Above: six of our beautiful Suffragette design tea towels
Feminism is for everyone, just like Tea Towels
A final thing to note is that the Suffragettes of the early 20th century were happy to get their message out through any and all means. They printed posters, knitted designs on to clothing and other items, made crockery, published pamphlets - anything that would spread the word and highlight the lack of political equality they faced.
So we think Mrs Pankhurst and her team would have no problem with their ideas and designs being resurrected in the 21st century. Too many people today have no idea what the Suffragettes went through to secure political equality.
We love the idea that young women - and men - might come across one of our tea towels in a kitchen somewhere and start learning about the Suffragettes for the first time.
And for those who consider themselves already fully abreast of their history - well, we hope our designs are an encouraging reminder of what can be achieved by the determined women and men who dream of a better world.
When I came up with the idea for Radical Tea Towel, I really just wanted to replace boring cat tea towels with something more thought-provoking. No offence, Top Cat.
What do you think? Can tea towels be tributes - or insults - to the campaigners of the past?