Posted by Bea on 19th Sep 2018
On Saturday 8th September, three valiant members of the Radical Tea Towel team, Tim, Bea and Luke, plus Luke's brother Adam and Moss the dog, ventured forth in the wind and rain to find the Chartists' cave on Mynydd Llangynidr, high on the moors above the village of Trefil, in Blaenau Gwent, South Wales...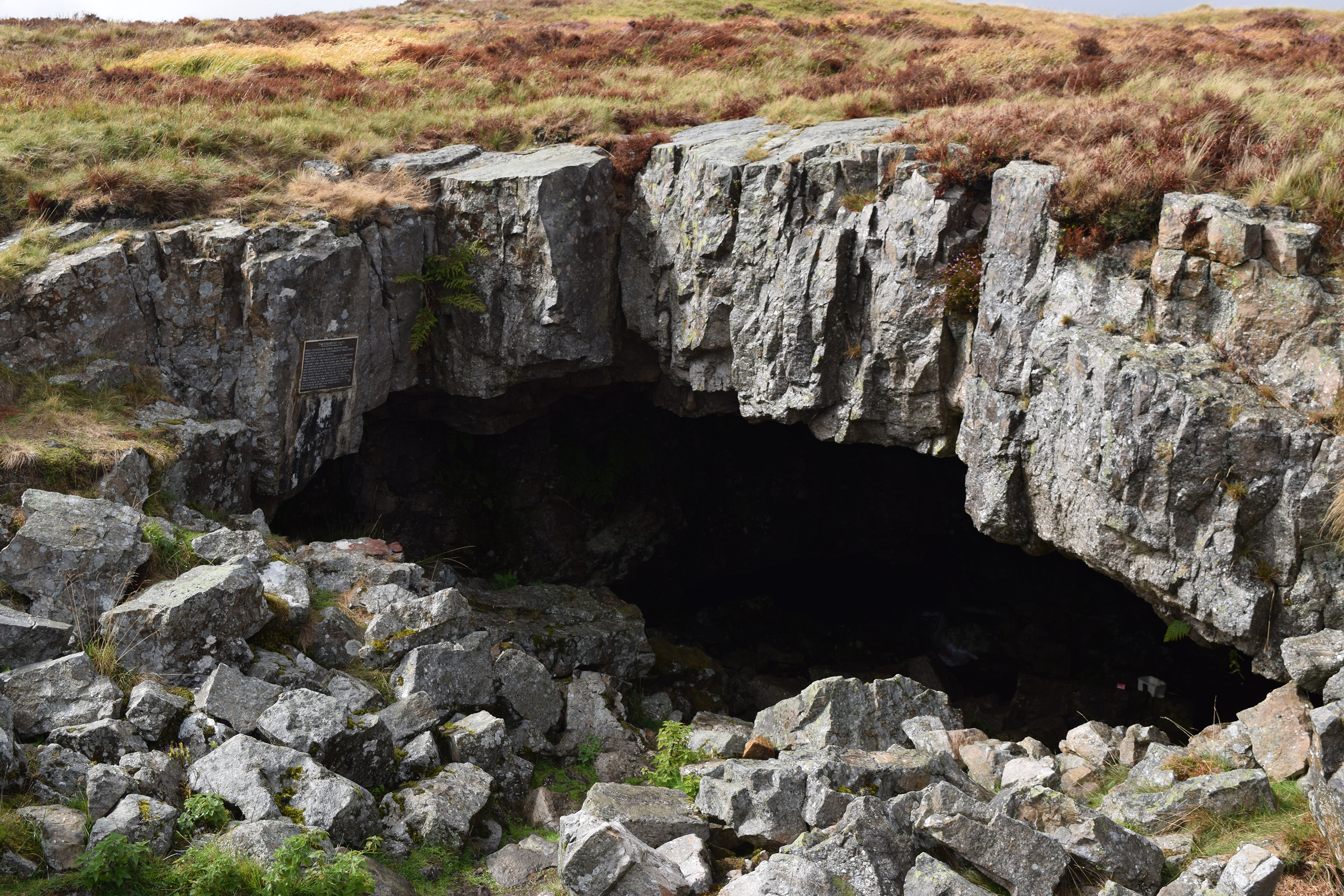 The beginnings of a pro-democracy movement
The forecast was pretty dire but, as we'd planned this venture a couple of weeks previously, we weren't about to let a bit of bad weather stop us, so off we set!
However, even though the Chartist cave is a prominent landmark noted on most maps, it took us two hours of walking over very difficult ground, and getting soaked through too, before we finally found it. (Orienteering is apparently not our strong point!)
Chartism: Britain's movement for Democracy
The cave entrance itself is a broad arch formed of millstone grit and you can see it would be very easy to miss if you approached from the wrong angle. At least that's what I'm telling people.
This was Luke just as he found the cave: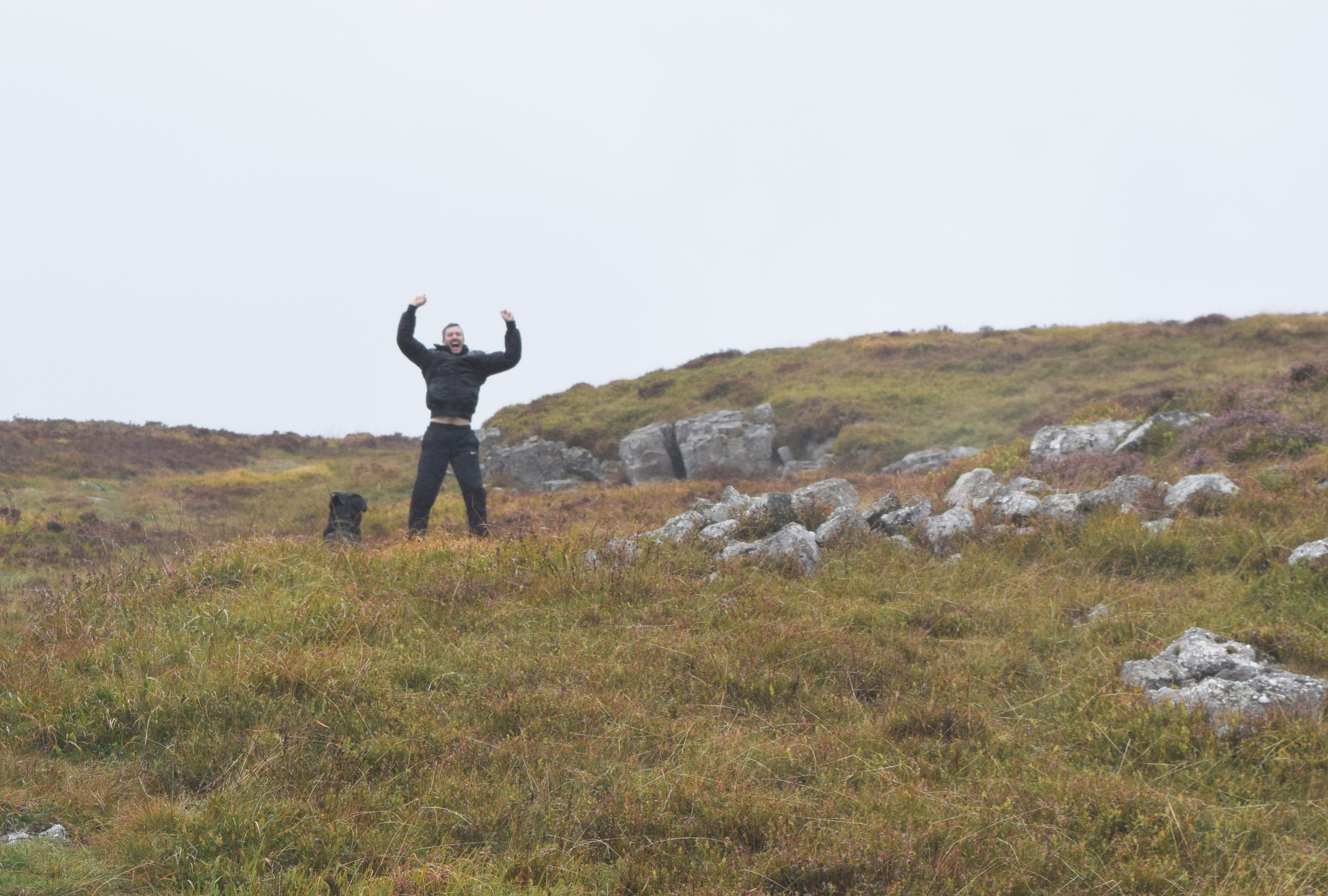 The Chartist rebels (campaigners for democracy) involved in the Newport Rising of November 1839 are thought to have made and stored their weapons in this cave in the summer of that year.
You can go inside and see where they would have met in secret and imagine what it would have been like for those brave men and women in those far off days, huddling in the dark and planning to march on Newport.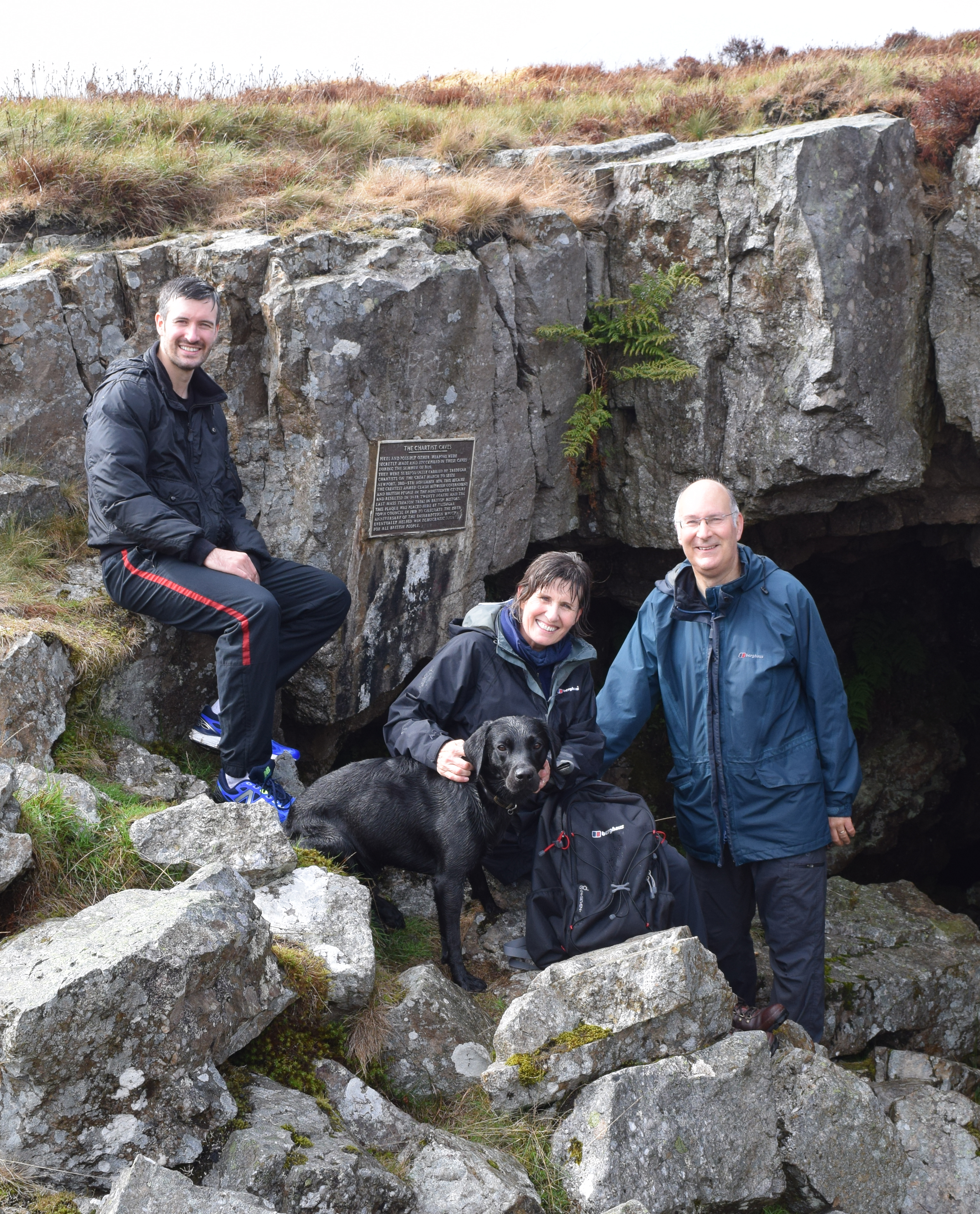 It's possible to explore further into the cave via a narrow slot to a lower main chamber with many passages leading off it but this is best not tackled except by experienced cavers; pot holers, not tea-towelers!

Four decades ago, cavers found three people's remains deep inside the cave complex. They weren't sure if they were the bodies of informers who'd been murdered or those of rebels killed in the uprising itself and their bodies dumped there. We can only speculate.
The Newport Rising was the last large-scale armed rebellion against authority in Great Britain.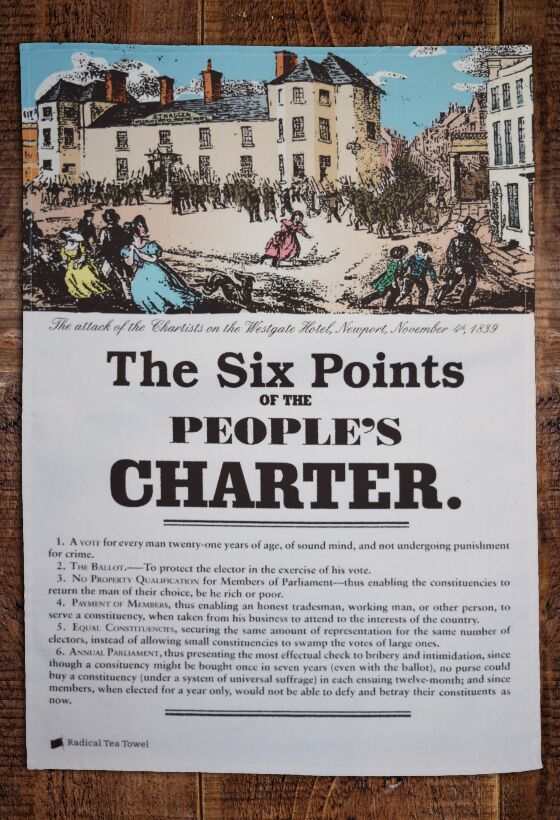 See our 1839 Newport Rising tea towel
The movement behind the Newport rising
On 4th November 1839, almost 10,000 Chartist sympathisers, led by John Frost, marched on the town of Newport, Monmouthshire.
The men, including many coal-miners, most with home-made arms, were intent on liberating fellow Chartists who were reported to have been taken prisoner in the town's Westgate Hotel. About 22 demonstrators were killed when troops opened fire on them. The leaders of the rebellion were convicted of high treason and sentenced to transportation for life (like the Tolpuddle Martyrs around the same time).
This plaque was put up at the cave entrance by Tredegar Town Council in 1989 to mark the 150th anniversary of the rebellion: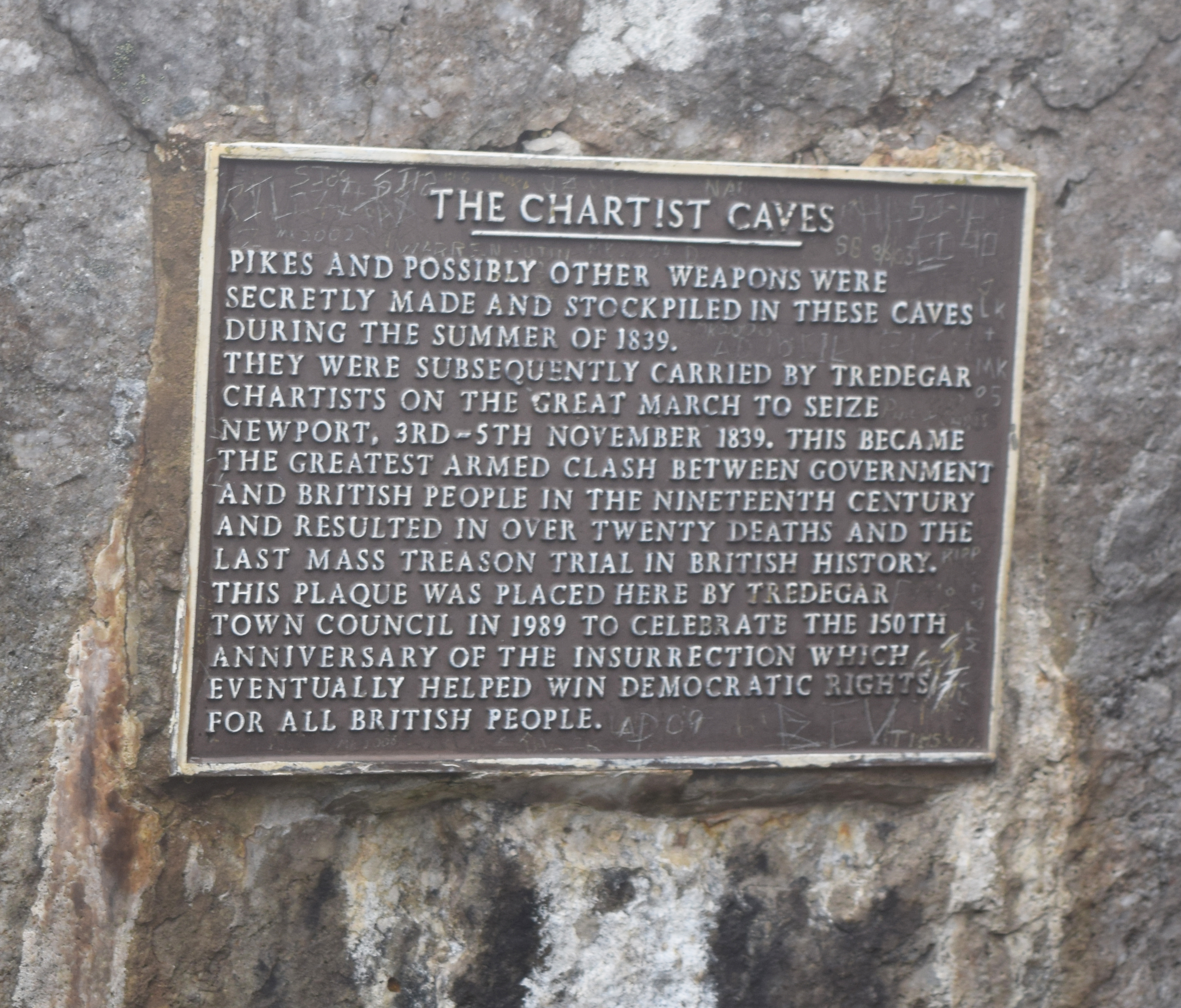 Chartism was a working class movement for political reform in Britain that existed from 1838 to 1857. It took its name from the People's Charter of 1838 which called for six reforms to make the political system more democratic, the first five of which have now become law:
A vote for every man over 21 years of age

A secret bal

lot (instead of public voting)

MPs to not have to own property

MPs to be paid

Equal voting constituencies

An election every year for Parliament
Chartism: the inspiration for a generation of democracy movements
Lastly, have you heard of Alexander Cordell's trilogy of novels set in nineteenth century South Wales, and in particular the first one, 'Rape of the Fair Country'? The novel follows the lives of the Mortymer family against a historical background which is described in considerable detail and includes an accurate portrayal of the 1839 Newport Rising and the Chartist movement's beginnings in Wales. I can certainly recommend this trilogy if you enjoy a good historical novel.
I think it's too easy to dismiss Chartism for its failure to quickly bring about democracy, but it's important to set it in its 19th century context.
See our 1839 Newport Rising tea towel
It provided the prototype for later working class movements by demonstrating the importance of working voices and showing the necessity for action in response to the conditions and limitations of the social system. And it gave a much needed boost to working class morale!
Let's not forget these brave men and women who fought for democracy and paved the way later in the century for the Suffragettes to follow them and eventually bring about universal suffrage.