Posted by Katie Russell on 2nd Jul 2018
They say the Women's Social & Political Union (WSPU) was the first campaigning body to use design and colour to create its own 'corporate identity'. And WOMAN did that work for them!
In pictures from recent processions to mark 100 years of women getting the vote, it looks like the streets are flowing rivers of green, white and violet.
I'm a sucker for the symbolism. And, yes, my wardrobe's full of Suffragette colours. But I wasn't out waving my banner for the centenary last month.
I was saving my sash for a much more special occasion: today's (2nd July) 90th anniversary of the Representation of the People (Equal Franchise) Act 1928, which finally granted women in the UK the vote on the same basis as men.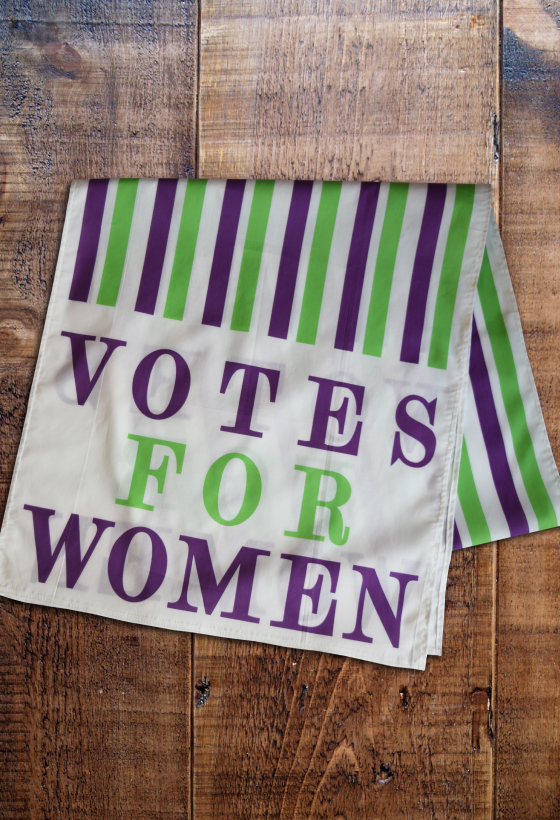 Votes for Women Scarf by Radical Tea Towel
1918 was only the first of many hurdles
Some women got the vote a century ago, true.
But Sister Suffragette and Prince Charming Patriarchy didn't just swoon into each other's arms, swan off into the sunset and live happily ever after in 1918.
And though you'd be forgiven for thinking otherwise - given there's so little taught or written about it - there was an active women's political movement between the end of World War One and the '60s.
Women didn't just hang up their scarves.
The Young Suffragists, for example. After 1918, this group spoke out for women under 30, who were still vote-less, by delivering a petition to the Prime Minister's house and then breaking into Buckingham Palace to try and give a letter to the King.
Former militants like Ray Strachey and Christabel Pankhurst tried building on women's hard-won freedoms by getting elected to the Commons, where they might be able to agitate from the inside for a change.
But the first General Election with women voting proved just how much there was still to fight for.
A job not done: the continued fight for gender equality
The press and public were obsessed with women candidates' clothes and personal lives. Strachey even had to issue a leaflet reassuring people her kids weren't being neglected.
In the end, only one woman was elected to Parliament in 1918. And because that woman was Constance Markievicz - Irish revolutionary nationalist and Sinn Fein member - she never took her seat.
Lady Nancy Astor had some joy the following year. With her husband's support, she won his old constituency of Plymouth Sutton in a by-election.
But even with wealth and the class system on her side, she quickly found she wasn't immune to the problems other women had faced.
Astor soon learned to dress more 'sedately'. And to avoid the bars and smoking rooms where her male 'right honourable colleagues' hung out, often pretty dishonourably refusing to speak to her or even acknowledge her presence.
But Nancy saw herself as a woman first and a Tory second. She fought hard for equal suffrage and other 'women's issues' from the inside. And later she made cross-party alliances with Labour women MPs like 'Red Ellen' Wilkinson to further the cause.
Meanwhile, out on the streets, July 1926 saw a mass women's suffrage demo in London, where ex-militant suffragettes and constitutional suffragists, along with new campaigning groups and trade unionists, marched shoulder to shoulder, just as aristocrat and communist were toiling side by side in the Commons.
The Suffragette struggle
Of course, I'm not saying we should forget the pre-war efforts of the Suffragettes and Suffragists.
When 2017's General Election fell on the centenary of Emily Wilding Davison's death, I pretty much cried all day thinking about her.
Annie Kenney, Dora Thewliss, Sophia Duleep Singh, Sylvia Pankhurst - to name far too few - they deserve our ever-lasting gratitude.
It's just a mistake to think 1918 was all those women fought for.
Their real triumph happened 90 years ago today. Because no woman is free while any woman is un-free (Praise the Audre Lorde!). So let today be the day we dance.
Sadly, the 1928 Equal Franchise Act came just 18 days too late for one great veteran to witness. Emmeline Pankhurst, leader and co-founder of the WSPU, died on 14th June 1928.
Tireless campaigning, thirteen imprisonments and the brutality of force-feeding had no doubt taken their toll.
But the struggle for women's equality that Pankhurst had been a part of would rage on.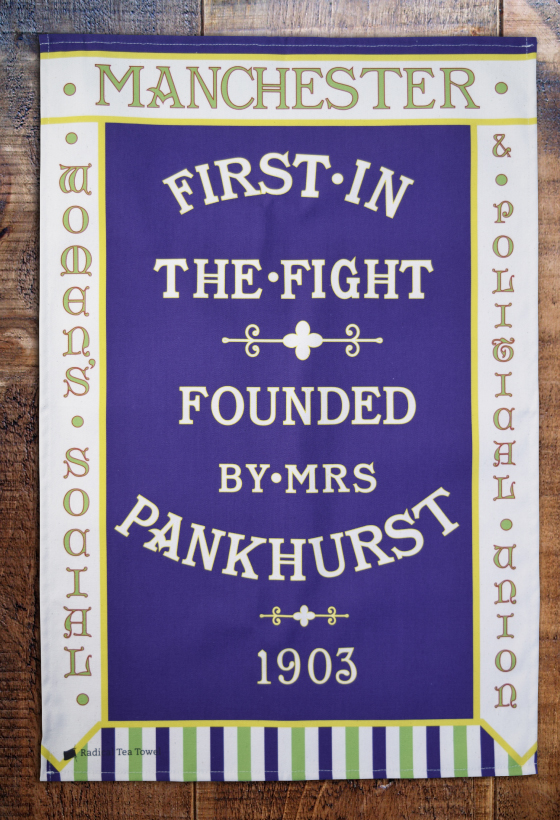 Manchester WSPU Banner tea towel