Posted by Pete on 23rd Apr 2019
The story of the youngest ever elected female MP and her non-violent (minus 1 slap) fight for equality in Northern Ireland.
---
There's a woman, turning 72 today, who one Irishman recently summed up as "our Martin Luther King".
From Cookstown, County Tyrone, her name is Bernadette Devlin McAliskey.
While small in stature, she stands tall from every angle as one of the most formidable revolutionary politicians in modern British history.
Devlin: The youngest ever elected female MP
Bernadette came of political age as a working-class Catholic girl in 1960s Northern Ireland, rising to prominence in the non-violent campaign for Catholic civil rights in British-controlled Ulster.
She was elected to the House of Commons in 1969 on a civil rights ticket, making her the youngest ever female MP at 21 years-old.
Over the next decades, inside and out of Parliament, Bernadette continued to agitate for equality in the North – surviving an assassination attempt by Ulster Unionist paramilitaries along the way.
But out of this dazzling (and very much unfinished!) biography of peaceful resistance to violent oppression, one Bernadette Devlin McAliskey moment shines particularly bright.
It did not come at a bright moment, though. In fact, it was one of the darkest moments in recent British and Irish history.
Devlin's "Proletarian Protest"
On 30th January 1972, British Paratroopers, without any provocation, murdered 14 unarmed, peaceful protestors in Derry City – this is the massacre now known to infamy as 'Bloody Sunday'.
Bernadette had been there, of course - the protestors had been marching for equal civil rights in Northern Ireland, so she was marching with them.
The day after the massacre – on which the Derry City coroner commented, "I would say without hesitation that it was sheer, unadulterated murder" – an emergency debate was held at Westminster.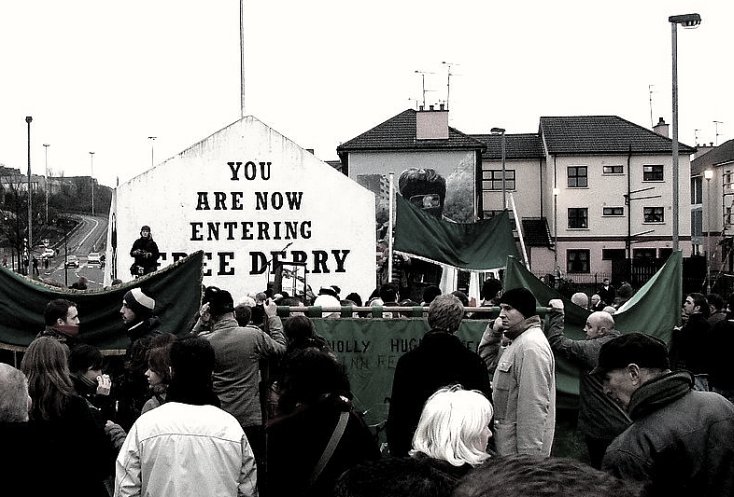 Above: A march through Free Derry in 2007 marking the 35th anniversary of Bloody Sunday
Bernadette – still traumatised after seeing her fellow marchers gunned down in cold blood – had to gather herself and fly off to London, as sitting MP for Mid-Ulster.
What happened next is almost unbelievable.
The debate began in the House of Commons with Reginald Maudling, the Conservative Home Secretary, claiming the paratroopers had fired in self-defence after shots from IRA men.
This was a barefaced lie – the soldiers fired first, and then continued to fire without any armed response. It would take decades of campaigning, in fact, until the British Government at last confessed as much.
Everyone who'd been at the scene knew the truth of it – which included Bernadette Devlin MP.
After Maudling had told his shameful lie and the debate in the Commons continued, Bernadette stood up time and again, but the Speaker would not call on her.
It quickly became clear to Bernadette that, behind closed doors, Maudling had conspired with the Speaker – Selwyn Lloyd, the Tory ex-foreign minister who had conspired with France and Israel in 1956 to launch the illegal Suez War against Egypt – to make sure she wouldn't be heard.
Bernadette continued to be ignored until she would take no more.
Not given the chance to make a speech of her own, she tried to get at Maudling with a point of order:
"Is it in order for the Minister to get up in this House unchallenged and tell lies?
The Speaker was not happy about that: "The Honourable Lady for Mid-Ulster must not call a Member of Parliament a liar and must withdraw her statement."
Bernadette: "I will withdraw the word but not the sentiment. But I assert my right as the only eye-witness to speak."
Speaker: "The Honourable Lady for Mid-Ulster has no rights other than those given to her by the Speaker."
That did it.
Bernadette: "The Honourable Lady for Mid-Ulster has whatever rights in this House it is within her power to exert."
At this point, Bernadette walked down to the floor of the House, planning to lift the parliamentary mace in protest.
However, as she approached the mace she realised it was going to be too heavy for her to lift.
Years later, she remembered: "And that's when I caught out of the corner of my eye, the Liar. I thought to myself, 'I can't lift that mace but I can put the fear of God in you for thirty seconds'."
Bernadette walked up to Reginald Maudling, the Home Secretary who had just lied to the world in order to cover up a massacre by the British Army, and slapped him.
A brawl quickly broke out, with Tories attacking this 5 foot tall, 23 year-old woman and Labour MPs flying in to her defence – the Parliamentary session was suspended.
Aftermath and Legacy: Devlin's message lives on
Afterward, with the callousness for which it's all too well-known, the British Press gave far more outrage to Bernadette lightly slapping the Home Secretary than the fact 13 British citizens had just been murdered by the Army in Derry.
Confronted by journalists outside Westminster, she was asked what she thought she'd achieved by hitting Maudling.
Bernadette, the working-class girl from South Tyrone, replied: "What I achieved was simply delivering to the Home Secretary a proletarian protest at the fact that he was responsible for the murder of 13 people."
One journalist, putting his medieval worldview beyond doubt, accused Bernadette's action of being 'unladylike'!
Bernadette recalled this recently, saying, if he thought acts of resistance to power weren't appropriate to women, then "he'd obviously not heard of people like Constance Markievicz and the Suffragettes!"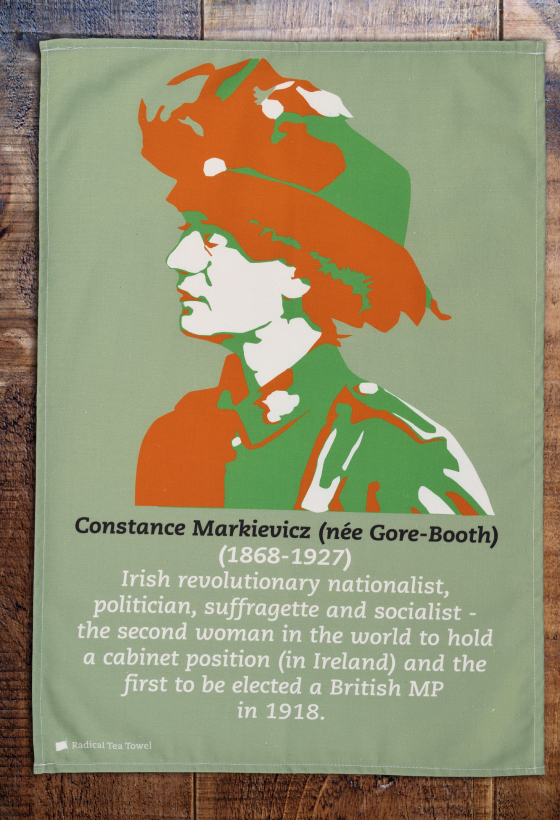 Above: Our design celebrating Markievicz, a hero to Bernadette Devlin and her contemporaries
Bernadette wasn't a violent woman. As a leader in the Northern Ireland Civil Rights Association, she'd advocated Martin Luther King's philosophy of non-violence as a method of political protest.
But, in the face of a wealthy, Conservative Home Secretary falsely blaming oppressed Irish Catholics for their own murder at the hands of his soldiers without so much as expressing regret for their deaths, not even Gandhi himself could have turned the other cheek.
As Bernadette said recently: "My only regret is that I didn't hit him hard enough."