Posted by Pete on 20th Jan 2019
We all like to entwine our own stories with those of our heroes. I'd need plenty more than two hands to count how many times I've told the one about meeting pre-leadership Jeremy Corbyn, sitting alone and contented beside the CND stall at the 2014 Labour Party Conference (within a couple years he'd be the most famous socialist in Europe).
It's nice to write stories, howe ver small or brief, where you and someone you respect are fellow protagonists. In fact, I'm going to write one of them here. The difference is that this one will also do an important educational job – raising awareness of a criminally under-known sage of the modern British Left – Max Levitas.
Remembering the battle of Cable Street
Me and Mr Levitas's entwined story starts in October of last year. The Battle of Cable Street tea towel was being released just in time for the 72nd anniversary of that epic clash between anti-fascism and Oswald Mosley's thugs on the streets of East London.
I wrote the blog commemorating Cable Street and pointing out the new radical tea towel, and it went out to our subscribers as usual. But a couple of weeks later, I received an email from a man called Robert Hunter.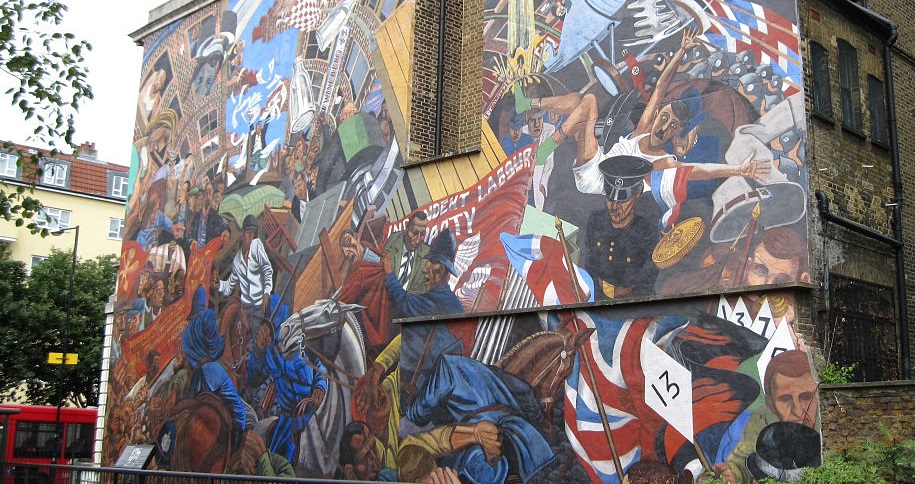 Above: the Cable Street mural (image credit: Jo Marshall)
He had some kind words to say about the email and told me that he had subsequently ordered two of the Cable Street tea towels. But then things took a turn for the incredible: Robert told me that his wife, Professor Ruth Levitas, was the niece of one Max Levitas. Max wa s 103 years young and living in Stepney, East London.
Oh yeah - and he was also a veteran of the Battle of Cable Street. Ruth and Robert were heading over to see him that weekend and would let him know about our new tea towel.
That's right, a real-life Cable St veteran (there are hardly any still about) was going to hear about our commemoration of his struggle.
Just a few weeks later, I was gutted to learn that Max had passed away.
In response, I resolved to learn more about the life this man had led. I found a compre hensive obituary online and began to read.
A life on the frontline of radical politics
Max had been born in the Jewish Portobello community of Dublin before moving to East London with his family; he worked as a tailor and was a member of the Young Communist League from 1929; in 1934 he was arrested for writing anti-fascist slogans on Nelson's Column (!); after Cable Street, he organised tenant resistance to landlordism in 1930s East London. Max's brother, Maurice, was also a communist and went to Spain to fight against Franco in the International Brigades. After WWII, Max was elected a Communist Party councillor for the borough of Stepney.
I read and read about this life of resistance to capitalist exploitation, but, as I did, I realised I wasn't just learning biographical info – I was being shown yet more links between me and Max Levitas.
For one thing, the Levitas family, like my grandpa's, had come to the British Isles as refugees from the anti-Semitic pogroms taking place in Tsarist Lithuania during the late 19 th century.
The infant Max had also grown up in Dublin during the Irish War of Independence (his father, Harry, was a supporter of the Irish cause). My great-grandad, James Conroy, was a Captain fighting in the Irish Republican Army during that struggle.
Our families, then, linked us both to some of the same historical upheavals. We are both children (me at a much greater distanc e) of the Jewish exodus from Tsarist Russia and Ireland's fight against the British Empire.
Add to this some other links which I've come across since – it turns out, for example, I live about 2 minutes from a memorial bench to Max's brother, Maurice – and the web connecting us has become thoroughly spiderlike.
A Cable Street Veteran, a man of principle
Uncovering these connections to someone of Max Levitas' stature has been a progressively uplifting experience for me personally, but I'd have probably kept it to myself if not for the hope this might raise some awareness of the man.
It's an awareness much needed because otherwise we risk a silence falling on Max due to his communism – "But he was a communist!" the dullards might say, "celebrating him would be like celebrating Stalin!"
Nonsense.
There are as many communisms in this world as there are stars in the sky. Max's, in his own words, was about the fight to ensure "that the ordinary working people of England could lead decent lives – not to be unemployed, that people weren't thrown out of their homes when they couldn't pay their rent, that people weren't homeless, as so many are today, living with their parents and crowded together in rooms."
More democratic than many self-described democrats today, more emancipatory than all those who rail against socialist economics as a system of tyranny, Max Levitas' communist beliefs and how he put them into practice were things to be proud of – much like the man himself.