Posted by Pete on 5th May 2019
In 1935, Mussolini's fascist forces invaded Ethiopia. Sylvia Pankhurst led the international protests which followed, forging a lifelong bond in the process. Her internationalism, as well as her involvement with the suffragette movement is what we should remember her by.
---
Sylvia Pankhurst is a name associated with many places by the millions of British people who still know and adore her.
Manchester's an obvious one – she was born there (today in 1882) and it was in Manchester that, along with her mother, Emmeline, Sylvia set up the Women's Social and Political Union (WSPU), fighting arm of the women's suffrage movement in Britain.
Sylvia also had a close connection to East London, where she established the East London Federation of Suffragettes in 1914 – a base for her ongoing socialist and feminist activism.
But less well-known are Sylvia Pankhurst's ties to Ethiopia.
"The Justice Which Is Due My People"
Along with feminism and socialism, Ethiopia was the moral and intellectual commitment of Sylvia's life.
Her relationship with the East African kingdom began in October 1935, when Mussolini invaded, trying to emulate the conquering Roman emperors of old.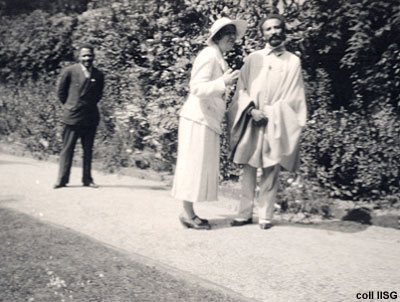 Above: Pankhurst with the Ethiopian Emperor Haile Selassie (undated)
Ethiopia's defenders could not hold off his fascist hordes for long, and the occupation was completed in a few months, with the aid of massacres by Italian troops and the use of poison gas.
In an unprecedented move, the Emperor Haile Selassie went to Geneva himself to demand the "justice which is due to my people" from the League of Nations.
Led by Britain and France, the body had condemned the initial invasion as illegal – it was hard to do otherwise – but Selassie's appeal ultimately fell on deaf ears. The veteran pillagers of Africa's wealth and freedom were never very likely to punish Mussolini's crime.
Sylvia Stands with Selassie in Ethiopia
There is a proud tradition within some corners of this country of opposing empire and its crimes from the grassroots, going back to the mass support for William Wilberforce and Olaudah Equiano's campaign against the slave trade.
So when Mussolini sent his tanks into Ethiopia and our Tory Prime Minister, Stanley Baldwin, did nothing to stop him, an Ethiopia solidarity movement blossomed in the town halls and streets of the UK instead.
Standing in front was Sylvia Pankhurst – never one to miss an opportunity to fight for justice and liberation.
In the press, she denounced Mussolini's use of poison gas on the Ethiopian people and demanded genuine sanctions against fascist Italy.
When Fleet Street eventually forgot about East Africa, accepting the occupation as part of the status quo, Sylvia set up her own paper, the New Times and Ethiopia News, to carry on the agitation.
And when Emperor Selassie was exiled to Britain in June 1936, Sylvia was there to greet him at Waterloo Station.
They became close friends and allies, with Sylvia – a devout anti-monarchist – supporting him not because he was an emperor, but because, "she believed in his cause, the cause of Ethiopia."
Deliverance from Mussolini was at last achieved during World War II, by an alliance of British troops and Ethiopian rebels.
After the war, Sylvia would make many trips to the country whose freedom she had struggled for since 1935, and began advocating for the liberation of all of Africa from the still-sprawling British and French empires.
She moved permanently to Ethiopia in 1956, and was given a state funeral following her death four years later, at which her friend Haile Selassie named her an Honorary Ethiopian.
Above: Honouring Pankhurst and her intersectional struggle for liberation
Why Pankhurst's Internationalism Matters
Sylvia Pankhurst, one of the icons of British women's suffrage, now rests at Trinity Cathedral in Addis Ababa, alongside Ethiopian patriots who gave their lives to the struggle against fascist colonialism.
It's a reminder that Pankhurst's memory belongs as much to the story of Ethiopian liberation as it does to those of women's suffrage and international socialism.
Sylvia's connection to Ethiopia also reminds us of the international solidarity which has animated many of history's most inspiring radicals.
The anti-colonialism which moved in tandem with Sylvia Pankhurst's feminism; the solidarity with Cuba behind Maya Angelou's civil rights activism; the friendship with Palestine which was so fundamental to Nelson Mandela's fight for freedom in South Africa.
These are all chapters in the same story.
When it comes to the fight for a fairer society and a more just world, we are living a global struggle.
Read more stories about Pankhurst, Maya Angelou, Eleanor Marx, and other internationalist heroes on our blog