Posted by Lucy on 13th Nov 2019
The fight for women's suffrage in Britain was a long fought battle, spearheaded by the Suffragette movement. Here are 6 quotes that define this legendary movement of British History.
---
The Suffragette movement formed in the UK when Emmeline Pankhurst, a member of the National Union of Women's Suffrage Societies (NUWSS), broke away from the group after becoming frustrated with its approach.
In 1903, she formed the Women's Social and Political Union (WSPU), which was more inclusive of women from all backgrounds and which started using more violent tactics to campaign for universal women's suffrage from 1905. By 1918, after much sacrifice from the suffragettes, a breakthrough was finally made. A Bill was passed, the Representation of the People Act, which allowed some women to vote. Women had to be over 30, own a property or be married to a property owner. So the job was by no means complete, but it was a start.
Ten years later, in 1928, all women finally received the same voting powers as men.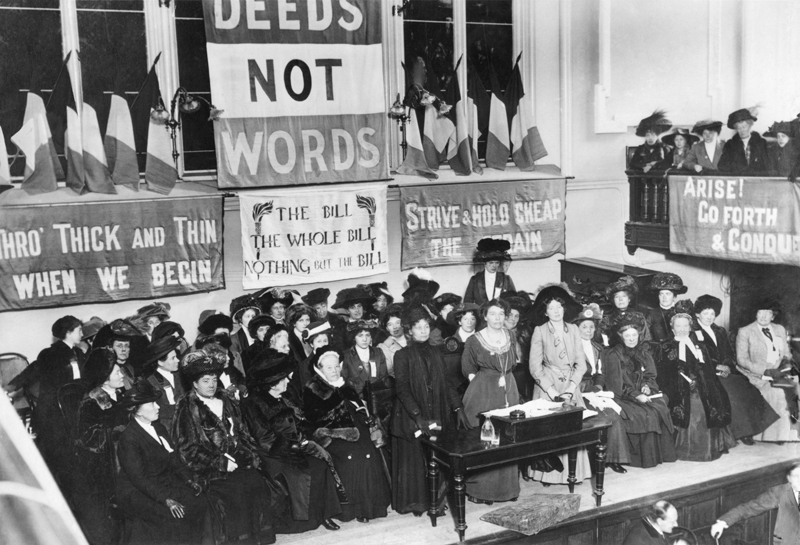 A defiant image of the Suffragette movement - click to see our blog for more history!
"Deeds, Not Words" - Emmeline Pankhurst
This is by far the shortest quote we've collected but one of the most accurate reflections of the Suffragette movement. The Suffragettes' defining characteristic was the fact they took to physical and sometimes violence techniques in an effort to get their cause noticed.
While the Suffragists believed in peaceful protest and winning the respect of Parliament by remaining law-abiding, the suffragettes thought this didn't go far enough. So Suffragettes started getting arrested for minor law breaking, doing things like chaining themselves to railings, spitting at policemen, and damaging property.
Once in prison they would continue their protest by going on hunger strike. To prevent them becoming really unwell they would often be held down and force fed, an awful procedure. Once this became commonplace, Parliament passed the Cat and Mouse Act. To stop the suffragettes from getting too ill in prison, they were temporarily released until they were well again, when they were re-arrested.
"The true militant suffragette is an epitome of the determination of women to possess their own souls" – Emily Davison.
Emily Davison made the ultimate sacrifice for women's suffrage, running out in front of King George V's horse at the 1913 Derby in Epsom, being trampled and losing her life.
While it's thought that Emily never meant to die and was simply trying to pin a banner of Suffragette colours onto the horse, her death, along with the police's cruel treatment of suffragettes, sparked public anger. The suffragettes had achieved their objective.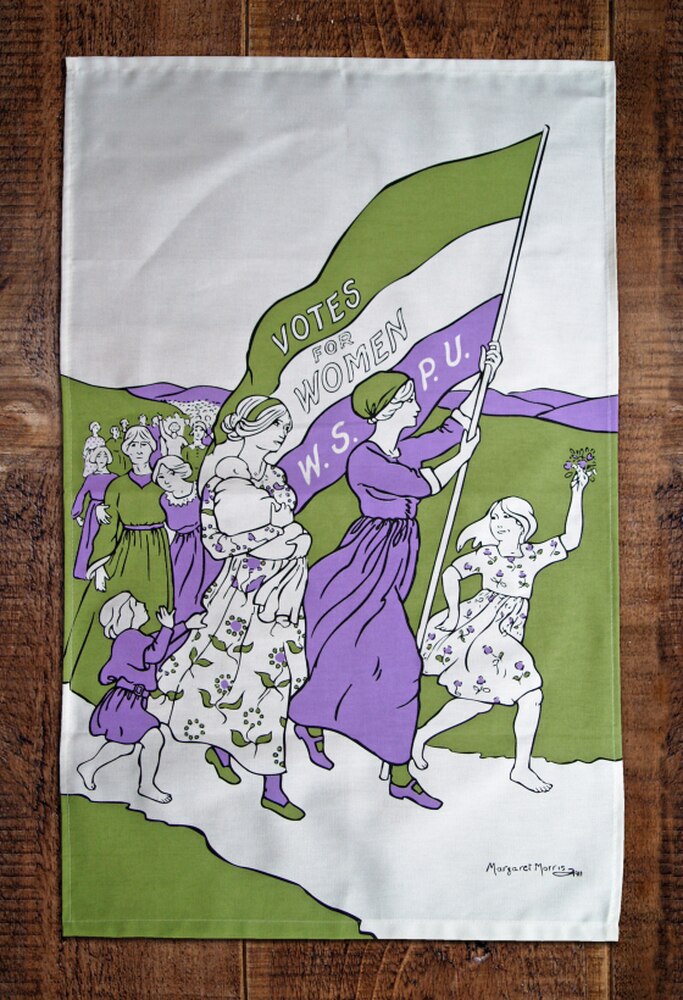 Click to view this stunning WSPU design inspired by original Suffragette material
"I know that women, once convinced that they are doing what is right, that their rebellion is just, will go on, no matter what the difficulties, no matter what the dangers, so long as there is a woman alive to hold up the flag of rebellion" - Emmeline Pankhurst
The Suffragettes believed so strongly in women's equality that their campaigning went much further than the suffragists, encouraging women from all walks of life to fight for their right to vote.
The Suffragists took the stance of getting the government on their side, meaning they were campaigning only for middle-class, property-owning women to have the vote, presumably as a kind of gradual step towards universal suffrage.
The Suffragettes just didn't think this stance went far enough, so their campaign demanded votes for all.
"Remember the dignity of your womanhood. Do not appeal, do not beg, do not grovel. Take courage, join hands, stand besides us, fight with us." - Christabel Pankhurst
Christabel was one of Emmeline's daughters and was also heavily involved in the women's suffrage movement.
One of the Suffragettes' aims was to bust traditional stereotypes of women. Women were traditionally seen as obeying, demure, gentle and delicate. The suffragettes acted anything but this, but that was the point.
Phrases like "take courage" and "fight with us" would have, at the time, commonly been associated with men. Part of the suffragettes' campaign was showing the world that women could contribute just as much as men, so they deserved the same voting rights.
"Men make the moral code and they expect women to accept it. They have decided that it is entirely right and proper for men to fight for their liberties and their rights, but that it is not right and proper for women to fight for theirs" – Emmeline Pankhurst
This perfectly illustrates the absurdity of suffrage not being universal at the start of the twentieth century and the reason more and more people started to get involved with the quest for voting equality.
How does it make any sense that men should have all the rights and decision-making power and women should have none?
"Courage calls to courage everywhere, and its voice cannot be denied" - Millicent Fawcett
Technically this is a quote from Suffragist Millicent Fawcett. Millicent believed in using peaceful methods to campaign for women's suffrage, so never joined the suffragettes but her work was so crucial that she is still a powerful image representing women's rights in the UK, having dedicated 62 years of her life to the cause.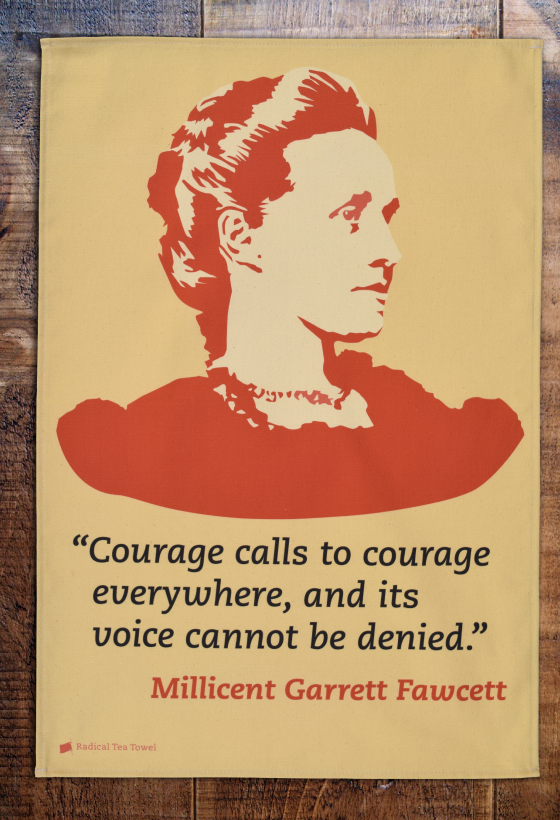 Millicent Fawcett's strength is preserved forever on this great design-click to view now !
Put simply, the people who fought for women's rights were brave, and this included some men. Campaigners were being thrown in prison, force-fed, and violently handled by the police force. They didn't want to be criminals. They didn't want the reputation of having been to prison. But they had reached a point at which they didn't know how else to get the government's attention and ignite change. It took courage to do what they did.

Enjoying the read? Sign up to our email list for exclusive content and receive our posts straight to your inbox. Click for more!