Posted by Pete on 31st Mar 2018
Today (31st March) is the 120th anniversary of Eleanor Marx's death in 1898.
After learning that her partner, the English socialist Edward Aveling, had been having an affair, Eleanor tragically committed suicide by poison. She was just 43.
Editor, researcher, union leader, pioneering feminist. She left a hole in the British and European Left not easily filled, given the achievements of her short life and her role in transforming 19th century British politics.
We think it's high time she joined her father on the tea towel wall of fame: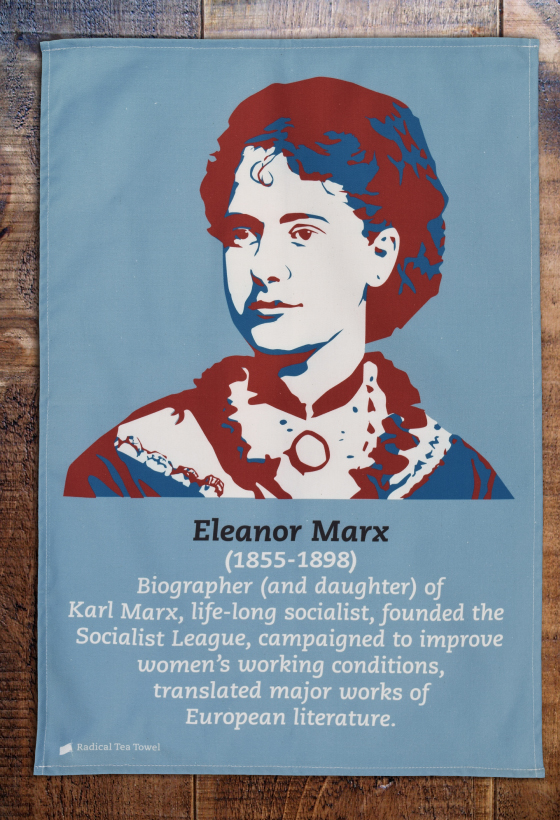 A socialist upbringing
Eleanor – nicknamed 'Tussy' by her family - had been emotionally and politically close to her famous old man since the beginning.
It's said that Tussy and Karl Marx's Das Kapital grew up together.
That's right: arguably the greatest ever work of political economy - a work which shaped the 20th century - was written amid the songs and games of little Eleanor Marx.
Growing up in this climate, it's not exactly surprising that she matured into a socialist.
At 16, Eleanor took on the role of her Dad's secretary, travelling with him to political conferences across a volatile Europe.
These journeys made a true internationalist of her as she crossed paths with figures from the European Left like the German SPD-founder Wilhelm Liebknechtand the French journalist-revolutionary, Prosper-Olivier Lissagaray.
(In 1872, aged just 17, she actually co-wrote with Lissagaray a history of the recent Paris Commune uprising - subject of our blog last week!)
An icon of the socialist movement in Britain
In the early-1880s, Eleanor Marx lost Karl, who had been as much political comrade as father to her over the years. This was straight after her mother, Jenny von Westphalen, and her older sister, Jenny Longuet, had died.
Most people would be forgiven for taking some time out from the struggle after such personal loss, but Eleanor Marx was never 'most people'...
The year after the death of her dad, Eleanor joined the new Social Democratic Federation – the first officially socialist party in British political history.
She soon broke from the SDF on the grounds that it wasn't internationalist enough, forming The Socialist League with her partner Edward and others, among them the designer William Morris.
Through the 1880s, Eleanor Marx became increasingly involved in the trade union movement. She joined the Women's Trade Union League and took an active role in the fearsome London Dockers' Strike of 1889.
Having moved away from the Socialist League in the late-1880s because of its anarchistic aversion to taking part in the political process (Marx had unsuccessfully called for the group to field parliamentary candidates), she briefly landed in Keir Hardie's Independent Labour Party (ILP), attending its founding conference in 1893.
A legacy beyond her surname
It was a terrible loss to the British Left when, a few years after this, Eleanor brought her life to an end.
Her funeral in Waterloo was attended by hundreds of socialists from all across Europe.
They hadn't come to pay their respects to 'Karl Marx's daughter'. They were there for Eleanor Marx – in her own right a giant of the 19th century socialist movement.
A defining image of Eleanor was when she stood before a huge crowd – larger than any her father had drawn in his life – in Hyde Park on May Day 1890. It was a rally demanding an 8-hour working day and socialism in our time. Eleanor roared:
"We must not be like some Christians who sin for six days and go to church on the seventh, but we must speak for the cause daily, and make the men, and especially the women that we meet, come into the ranks to help us."
Click here to see the new Eleanor Marx design
It's safe to say she practised what she preached.
By the way, if you want a much better and more comprehensive coverage of Eleanor Marx's life, check out the 2014 biography by Rachel Holmes.