Posted by Pete on 30th Dec 2017
We're going to be leaving behind a lot of big radical anniversaries in 2017: the hundredth anniversary of the 1917 Russian Revolution; the International Brigades' first combat experience defending the Spanish Republic in 1937; seventy years since Indian independence.
But 2018 has loads more in store for us.
Sign up to our Radical History Email and fill in the gaps from those school history lessons!

For British politics, it's going to be the centenary of the 'Representation of the People Act'. In the wake of the First World War and decades of campaigning by the Suffragettes, this enfranchised women over the age of 30 – the first ever British women to secure the vote.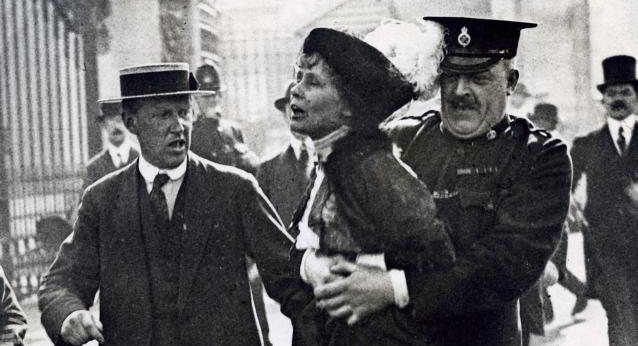 It was by no means 'job done' – my older sister still wouldn't have been an elector while I would have – but it was a massive step forward for democracy in this country.
2018 will also see a big anniversary for socialism.
The 5th of May will be 200 years since the big man – Karl Marx – was born. 21st February will be exactly 170 years since he published his Communist Manifesto with Friedrich Engels.
More recently, on 5th July 1948, Nye Bevan gave us the National Health Service. Yep, it will have been keeping us fit and healthy for seven full decades.
So there'll be a lot for us radicals to celebrate. But also a lot to look back on with a bit of sobriety...
Radical History to reflect on in 2018
2018 might mark seventy years of the NHS, but it's also seventy years since 700,000 Palestinians were forcibly displaced. Few of these families have yet been allowed to return to their homes, instead remaining refugees in UN camps scattered across the Middle East.
The centenary year of Britain's first women voters is also the centenary of the end of World War One – a moment to reflect on the horror of war, then and now. The guns fell silent only after millions had been sent to their deaths for little more than the imperial ambitions of the elites.
It's also going to be thirty years since Thatcher's government passed Section 28 in 1988, mobilising the education system to repress homosexuality.
Looking ahead to the new year
As if all this remembering wasn't enough, radicals have a busy present to deal with.
I'd be surprised if next year doesn't see another general election and, following Jeremy Corbyn's shock performance in June, there's a good chance he could become PM. Could 2018 be the first time in eight years that we 'give Labour a chance'?
Beyond Britain, Trump's set to be in the White House for another three years – that's three years of resisting for us to crack on with. Maybe a resolution for the new year could be to get down to a protest if he does end up visiting the UK?
Meanwhile, a massive flight of refugees toward the safety of Europe is still happening. Solidarity and openness - not looking the other way - is the order of the day.
Whichever way you look at it, 2018 is going to have us at Radical Tea Towel – and everyone whose politics Keep Left – run off our feet.
Whether it's by hitting the town or sitting around the TV with friends and family, have a great New Year. But then ready yourself for a radical 2018.