Posted by Pete on 31st Jan 2019
In the late 1930s, African-Americans found more equality on the front line of a foreign civil war than they could on the front row of a bus in Alabama.
When it comes to the start of the desegregation chapter of the African-American civil rights struggle, we're usually directed to the post-war 1940s and 1950s.
The Supreme Court decided on Brown v Board of Education in 1954, marking the start of school desegregation. It was in 1955 that Rosa Parks refused to vacate her seat in Montgomery.
And it was on 26th July 1948 that Harry Truman issued Executive Order 9981, formally desegregating the US armed forces (yes, sadly, the United States had fought its war against racist Nazism with a segregated army).
But President Truman's order, weirdly enough, did not actually create the first desegregated military units in American history.
Equality in the International Brigades
It was eleven years earlier when American soldiers were first allowed to enjoy racial equality on the front line – and not by the Federal Government.
82 years ago today, in Spain, the 'Abraham Lincoln Battalion' was officially formed as part of the elite XVth International Brigade – foreign volunteers fighting the fascist insurrection of Francisco Franco.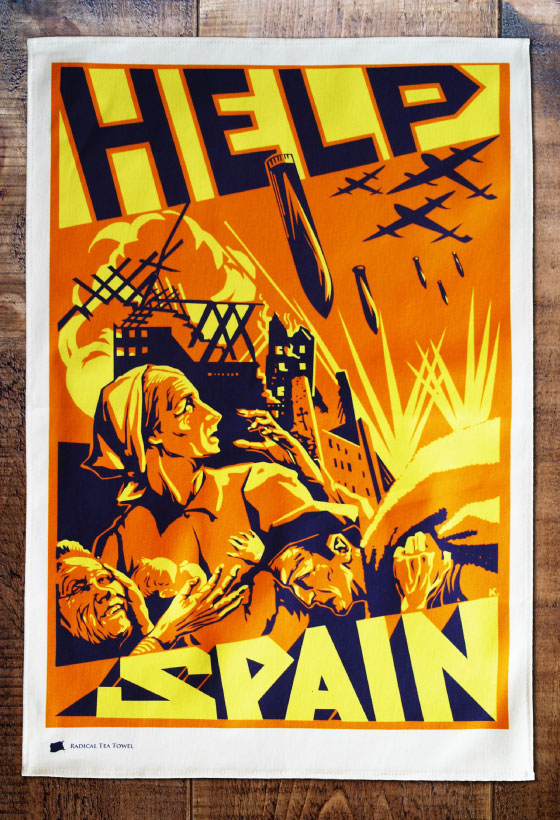 Above: our Spanish Civil War tea towel design
It was in January 1937 when enough Americans had landed in Spain to form their own fighting unit in the army defending the elected Spanish government.
Politically, these men and women came from all manner of progressive tendencies. Communists, socialists, liberals – in other contexts bitterly divided, on the sun-baked fields of 1930s Spain they stood united against fascism.
And no, the Abe Lincoln Battalion wasn't organised by race – typical of the US socialist and communist movements of the 1930s and their total commitment to anti-racism.
The progressive fight for equality is a global one
African-Americans were especially drawn to Spain because they saw in Franco the white supremacism they were fighting in Mississippi and Georgia. Langston Hughes put it well: "Give Franco a hood and he would be a member of the Ku Klux Klan."
They also rightly saw behind Franco the blood-soaked figure of Benito Mussolini (tens of thousands of Fascist Italian and Nazi German soldiers were deployed to Spain), who just a couple years earlier had invaded Ethiopia – a free nation which held sacred status in Pan-African and Black Radical thought in the US.
While relatively few in number – around 85 African-Americans served in Spain – they existed as full equals in the Abraham Lincoln Battalion.
Oliver Law, for example, was a Texan communist who was promoted to command the unit in 1937, making him the first black commander of an integrated military unit in US history. (He was killed in action on 10th July at the Battle of Brunete.)
From 1936 to 1939, then, African-Americans could find more equality on the front line of a civil war in a foreign country than they could on the front row of a bus in Alabama.
But harmony and idealism within the Lincoln Battalion were a great contrast to the horror of the war they were in Spain to fight.
The brutal fight against Fascism
Along with its sister battalions in the XVth International Brigade – the British 'Clement Attlee' Battalion, the Irish 'Connolly Column' (named after the Irish War of Independence hero, James Connolly) and others – the Lincoln Battalion saw action at Jarama, Brunete, Quinto, Belchite, Fuentes de Ebro, Teruel and other fierce battles of the Spanish Civil War.
681 American volunteers of the Abraham Lincoln Battalion ultimately gave their lives to save Spain from fascism, although Spain did eventually fall to Franco.
But if the Lincolns failed to accomplish their military objective, every volunteer had, in going to Spain, performed a moral act worthy of our remembrance.
As Bill Bailey – an Irish-American, working-class Communist from New Jersey – wrote to his mother in case he died in the fight:
"But, you see, Mom, there are things that one must do in this life that are just a little more than living. I could never be satisfied with just going through life knowing that there are millions of people all over the world who are being stepped on and pushed around by bullies."
That's what the Lincolns did, in a word. They saw a bully, and they stood up to him.
See the 'Help Spain' tea towel